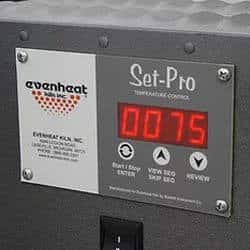 Welcome to the Set-Pro, our easy to use 3 button temperature control.
The Set-Pro with Express Mode allows you to program your glass firings using your glass COE, firing style and firing speed. It's quick, it's easy and it's accurate. For more advanced firing, the Set-Pro also allows you to define all the firing details using the Custom Mode. Whether you're a beginner or seasoned veteran the Set-Pro with Express Mode has you covered with features and reliable operation.
"On-the-Fly" features allow you to add time and temperature to your holds along with a skip ahead feature.
The Set-Pro with Express Mode is standard equipment on the Studio Pro STP, Studio Pro 14, Fishbone, Kingpin 88, TGK GT 4050, Hot Shot and all Knife Ovens. It's also available as an option on most Rampmaster equipped Glass Kilns and Rampmaster II equipped Ceramic Kilns.
Express Mode Programming
The Express Mode is designed to offer quick and easy programming for a variety of materials including Glass, Metal Clay and Ceramic.
Glass Express programming asks for your glass COE (90, 96 or 82), desired firing style (slump, tack fuse, full fuse or cast) and firing speed (fast, medium, slow and extra slow). It's easy and it's accurate while allowing you to fire glass from many manufacturers.
Metal Clay Express programming asks for your metal clay brand (Art Clay or PMC) and metal clay type. Programs use factory developed firing data for consistent and reliable results.
Ceramic Express programming asks for your desired cone number (022 thru 10) and firing speed. No cones needed as all firing is done automatically.
Custom Mode Programming
The Custom Mode allows you to control the rate of temperature change, final temperature and any desired temperature hold time up to 8 times per use or firing.
The Set-Pro also allows you to store up to 4 separate firing programs. This means you can keep your favorite programs in place and use them when needed. No need to re-program, just pick your firing and go.
On-the-Fly Time and Temperature Adjustments
During a firing it is often necessary to extend a soak/hold period or add more temperature to get the perfect result. With the Set-Pro you can add more time to a soak in 5 minute increments or add more temperature in 5° increments. All while firing. There's no need to shut down and re-program. This is a very cool feature that adds extra flexibility right when you need it.
On-the-Fly Skip Ahead
For those times when "enough is enough" the Set-Pro allows you to skip or move ahead to the next firing segment. Very useful when your satisfied with the current results and need skip ahead. Great for getting to the anneal quickly!!
On-the-Fly View Segment Feature
It's always nice to what the controller is doing during a firing. Our View Segment feature tells you which segment you're currently firing and whether your ramping or soaking. Excellent, need to know info with the press of a key.
Review Feature
The Set-Pro includes a Review key that allows you to double check your program before actually firing.