Evenheat Controllers: An Overview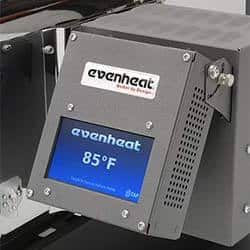 TAP
The TAP is our premier temperature controller: its wonderfully simple operation, excellent control capability and well laid-out touchscreen just rock. The TAP is, by far, the best performing and best selling heat treat temperature control.
Nowhere is simple-use more evident than in the single touch needed to access your heat treat programs. Just touch the Start key and all of your programs are immediately displayed for selection. Programs are displayed in full, easy to read text.
Creating your heat treat programs follows this relaxed feel as well. The TAP walks you through the process with on-screen displays and text that are easily understood and followed. Once created, your programs stay as long as you want them. The TAP has lots of room so feel free to create as many as you wish.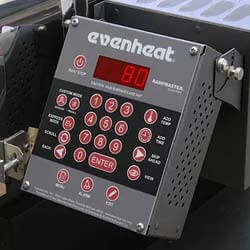 Rampmaster III
The Rampmaster 3 is our traditional full featured control and features a 4 digit display. It contains 12 program slots to store your favorite heat treat programs. To recall them just select your User number and you're ready to go.
Other features include a numbered keypad, program review key and the ability to work with our Quiet Drive Solid State Relay System.