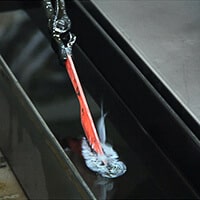 Thank you for your interest in Heat Treating by J. Mutz.
With over 24 years of Knifemaking experience and state-of-the-art heat treating equipment, I will help you with all your questions and knifemaking needs. No matter the task your blade is designed for, I know the best methods to having your knife perform perfectly.
I can heat treat any knife steel up to 27 inches in length. If you have any questions, please call me at (909) 923-7477.
Tru-Grit and J. Mutz Knives are separate companies. Jeff utilizes Tru-Grit's shipping and billing services only.
Heat Treat Prices:
1-9 Blades = $10.00/pc.
10-19 Blades = $8.00/pc.
$20+ Blades = $6.00/pc.
Other Services:
Stainless Steel Foil Wrapping: +$2.00/pc.
Deep Cryogenic Tempering = +$4.00/pc.
Normalizing & Annealing: +$4.00/pc.