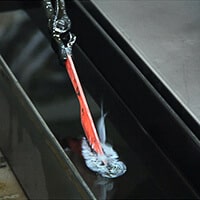 Thank you for your interest in Heat Treating by J. Mutz.
With over 19 years of Knifemaking experience and state-of-the-art heat treating equipment, Jeff is here to help you with all your questions and knifemaking needs. No matter the task your blade is designed for, Jeff knows the best methods to having your knife perform perfectly.
He can heat treat most steel up to 27 inches in length. If you have any questions, please, contact us and we'll do our best to take care of your needs.
Heat Treat Prices:
1-9 Blades = $10.00/pc.
10-19 Blades = $8.00/pc.
$20+ Blades = $6.00/pc.
Other Services:
Stainless Steel Foil Wrapping: +$2.00/pc.
Deep Cryogenic Tempering = +$4.00/pc.
Normalizing & Annealing: +$4.00/pc.